Programme: Upcoming Meetings and Events for 2015
Through the fall, winter and spring, we meet at 7:30 pm on the 4th Monday of the month in the auditorium of the Nova Scotia Museum of Natural History, 1747 Summer Street, Halifax. Meetings are open to the public. Field trips are held throughout the year, but most frequently during the summer. They are usually held on a Saturday or Sunday. The field trips are also open to the public, except when numbers must be restricted.
NS Wild Flora Society Board hard at work planning programme (fall, 2014).
Caitlin Porter joined the board in 2015.
Events during the summer are often scheduled on short notice.
Members receive e-mail notification.
WINTER 2016/2017
Saturday, March 18, 2017:
Skunk cabbage
Skunk cabbage, located only in SW Nova Scotia, is our earliest flowering native plant. We plan to leave Halifax by 07:00hrs. and arrive Digby by 10:30-11:00. I have asked Jeffrey White to lead us to the van Tassel Lake site. We may also visit other sites time permitting. Meet at the Irving Big Stop ( exit 26 from 101) at the above time). Please call me (Charles Cron) or email me (902-477-8272 after 6 p.m.; ccron72@hotmail.com) by Friday Mar 17 to register,car pool etc. I will need a contact number for you in case of cancellation or other problems . Cell phone numbers if you have one can help with communication along the way.
Monday, March 27, 2017:
Nature's Symbiotic Symphony - It Took So Long
Presentation by Norris Whiston
All welcome.
NS Museum of Natural History, Summer Street, Halifax 7:30 p.m.
(Enter by Parking Lot entrance.)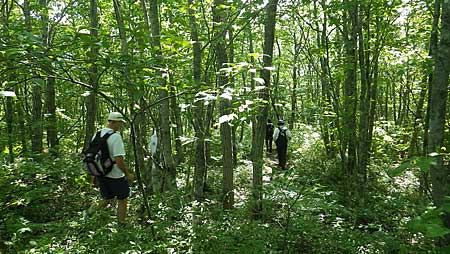 Celebrating the Symphony
Earth came with all the essential elements needed to foster life, but - it has taken a very long time and many biological transformations to make those elements into useable elements to foster the Earth's current wealth of biodiversity. This presentation will cover a portion of the changes to Earth's atmosphere, soils, and waters that have allowed our present life forms to exist. The presentation will also give some of the various roles many flora and fauna play in ecosystems and the effects of current human activities on those ecosystems.
Norris Whiston
has a BSc in Civil Engineering from University of Rhode Island and Masters in Education from Acadia. Norris is now a retired public school educator and writer of books and materials on nature, environment, history, and genealogy, He also helped develop, build and interpret 35 kilometers of hiking trails in Earltown.
More events to be posted shortly
Past Events
Monday, February 27, 2017:
The Forested Wetlands Project
Presentation by Logan Gray and Sydney Bliss
All welcome.
NS Museum of Natural History, Summer Street, Halifax 7:30 p.m.
(Enter by Parking Lot entrance.)
Forested wetlands are an important part of the broad coastal landscape of the Atlantic provinces. Although these habitats are likely to be as sensitive to disturbance as other wetlands, they have been overlooked and understudied. Because of the presence of trees and their more complex vegetation structure, forested wetlands are likely very diverse and and have distinctive aspects to their ecosystem functioning. However, they may also be threatened from harvesting and other development as they often resemble non-wetland forests. They may also be more sensitive to changes in precipitation due to climate change because soil moiture levels may be closer to the threshold required for maintaining wetlands. Different types of forested wetlands (e.g., spruce peat bogs, alder swamps) may differ in their role in carbon storage and sensitivity to biodiversity loss and climate change.
The Forested Wetland Project, funded under the Atlantic Ecosystems Initiative, was initiated in 2016 under the direction of Karen Harper and Cindy Staicer (Dalhousie), Gavin Kernaghan (MSVU) and Yolanda Wiersma (Memorial). Its objectives are to characterize biodiversity of different types of wetlands (structural, plant, bird, lichen, fungal diversity); relate different aspects of biodiversity in forested wetlands to assess their vulnerability to biodiversity loss; and to determine the role of forested wetlands in the carbon cycle by monitoring tree decomposition.
The Nova Scotia Wild Flora Society is one of the NGO partners in the project who are asked to provide input on locations of forested wetlands, identify interesting features and challenges and assist in the dissemination and discussion of results. It is early on in the project and this presentation will help to engage NSWFS members and others in the project. Logan Gray is the Project Manager for the Nova Scotia team, Sydeny's focus is on birds.
Sydney Bliss
is a wildlife biologist by training with a focus on avian ecology. She received her BSc from Mount Allison in 2015 (Morphometrics and distribution of Semipalmated Sandpipers in the upper Bay of Fundy). She has provided technical support to studies of Atlantic Sturgeon in NB, Bicknell's Thrush in NS, and forestry in BC. She's also worked as an interpretive naturalist for the NCC. Sydney will be starting her MSc at Dalhousie in 2017 with Cindy Staicer studying the fine-scale habitat associations of three landbird species at risk in NS:Olive-sided Flycatcher, Rusty Blackbird, and Canada Warbler.
Logan Gray's
training is mostly in microbial and molecular biology. He received a BSc from Acadia in 2012 (A survey of potential bacterial zoonotic pathogens in shrew feces). He completed a MSc at Saint Mary's under Gavin Kernaghan (Changes in root associated fungal communities during fine root decomposition in Red Spruce and Balsam Fir). Logan conducted some preliminary vegetation surveys for the Forested Wetlands in the summer of 2016 and is currently the Project Manager for the NS team. Logan instructs introductory biology labs at SMU and is on the executive (Secretary/Events coordinator) of the Nova Scotia Mycological Society.