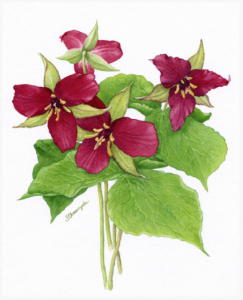 November 9, 2019 – January 26, 2020
Curator: Laura Ritchie
Year 2019 Theme Botanical, Painting
Organized by MSVU Art Gallery
Dr. Sunetra Ekanayake is a biologist and naturalist. Exploring the wilderness of Nova Scotia, she records flora and fauna encountered along the way. In this exhibition of botanical watercolours, Dr. Ekanayake invites us to consider the precious and distinct nature of plant species found around the province and on the MSVU campus.
Dr. Ekanayake is part-time faculty in the department of Biology at Mount Saint Vincent University.
Opening Reception
Wednesday, November 20 at 12:00pm
Please join the artist for a reception in conjunction with the Mount Community Show opening reception.
American Sign Language interpretation is available for all public programs – please email art.gallery@msvu.ca for more information.
View MSV announcement