Monday Jan 22, 2018: Members' slide night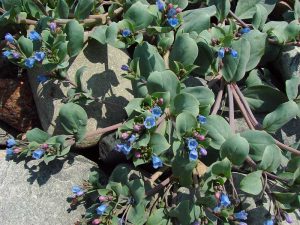 January 22nd marks the first meeting in 2018 with members' slide night. Members will receive an e-mail about how to proceed if you to participate as a presenter.
Slide night is always a fun evening as we learn about members' special places, new finds and mystery plants.
All welcome. 7:30 pm at the Museum of Natural History, Summer Street, Halifax.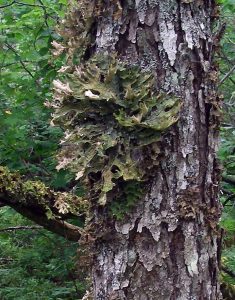 Sunday February 11: 2018 Lichen Walk
The fascinating and beautiful microcosm of lichens can be explored all year round. Lichens are not plants, not fungus, not moss, and not parasites. Lichens are a complex life form that is a symbiotic partnership of two separate organisms, a fungus and an alga. Join us for a lichen walk lead by Bob McDonald along some of the trails in Mainland Common Park. The footing may be slippery, so you might want to wear your ice cleats. Bring a field guide and a hand lens if they have them. We will meet in the parking lot at the top of Westridge Dr (off Willett St) at 2 pm for the 1.5 hour excursion. Contact Bob McDonald 902-443-5051 for directions.
Mon Feb 26, 2018: Hunting for the Disjunct Populations of Flora in Nova Scotia
Nova Scotia is particularly blessed with many small and unique communities of plants. Most of them are relics of different times in our natural history since glaciation. Many are unknown anywhere else in Canada. These small and isolated populations sometimes date back to the arctic and alpine plant life that dominated as the glaciers retreated, while others were stranded over a thousand miles away from their relatives to the south when warmer times cooled or the sea level rose. Some are fairly recent arrivals. Together, these populations form a record of the many climatic, geological and environmental changes that have been experienced here over the past 12,000 years and are still happening now.
On Mon Feb 26, 2018, NSWFS member Bob Kennedy will show some pictures of his explorations with the NS Wild Flora Society last spring and summer to some of the best locations in South-West Nova Scotia. Please join us and contribute to the discussion.
7:30 pm at the NS Museum of Natural History on Summer Street. Come in by the side entrance.
Sun March 18, 2018 Field Trip to Maguma Falls
We are planning a trip to The Kemptown Road Trailhead on Sunday Mar. 18, 2018. About 4 km in and 4 km back depending on the route taken . Will follow the snowmobile trail to the Willard Kitchner Macdonald Trail to The Falls. There is also a second Falls on the Sandy Cope Trail nearby which we could also visit (time and conditions permitting). Plan to examine mostly trees and shrubs along the way. Will then go to Sugar Moon Farm for pancakes and maple syrup before returning home. This will be more of a hike than a botanical exercise. Trail conditions are not known at present. Expect some snow cover but not too much. The trail is moderately difficult and varies with snow conditions.
Forecast for Sunday is mostly sunny. Temp -6C. There are other trails to explore as well if time permits.
Directions: From Halifax Hwy 102 to Truro about 69-70 K, take Exit 14A to Onslow Rd. NS 2, go 3.7 km to flashing yellow light, turn left onto Rte 311 to Tatamagouche. Drive 26 km to Kemptown Rd on the right, (1 km from SugarMoon Farm on left on 311), right turn onto Kemptown Rd and go about 5 km, the Gully Lake Wilderness Trail Head is on the left with signage. We will meet at the Trailhead at 10:00 am. Bring water, snacks, winter clothing in layers, cameras and field guides.
Please contact Charlie Cron to register by Sat. Mar 17 Noon. Or respond to email sent to members. If there is not enough interest the trip will be cancelled. We are aware of the short notice but the weather as you know has not been very predictable. We will need your name and phone # as this can be cancelled on short notice as well.
We hope you can join us.
Mon March 26, 2018: Biodiversity of Nova Scotia's Barrens: Not so Barren After All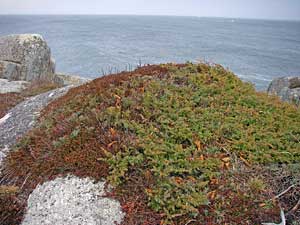 If you ever enjoyed a walk out at Peggys Cove, Taylor Head, Duncan's Cove or the Skyline trail in Cape Breton Highlands national park, this talk is for you.
As well as being iconic landscapes, barrens contribute an important and historically overlooked part of Nova Scotia's natural history. These distinctive ecosystems are characterized by some of the harshest conditions in the maritime provinces, but they host a great diversity of plants and lichens, produce many edible berries, and provide habitat for a handful of species that aren't found elsewhere in the maritimes.
This talk discusses current and ongoing research to describe plant communities on the barrens, mapping the way plant communities are arranged on the barrens, and understand the diversity of plants, lichens and bee pollinators that live there.
A presentation to Nova Scotia Wild Flora Society by Biology Professor Dr. Jeremy Lundholm, PhD student Emily Walker, and research associate Caitlin Porter of the Ecology of Plants in Communities (EPIC) Lab, Saint Mary's University.
Monday April 23, 2018
AGM and Sean Blaney on an Arctic Flora Paradise in the Cape Breton Highlands

Following our short Annual General Meeting, our speaker will be Sean Blaney of the Atlantic Canada Conservation Data Centre. Sean will present the results of their 2017 fieldwork in the Cape Breton Highlands of the national park. They hiked cross country up the Salmon River and Meat Cove Brook ravines, crossed over the height of land into the Polletts Cove and Blair River System. Then they crossed back over the plateau into the Grays Hollow Brook ravine. The highlight of the trip was an incredible series of waterfalls on the Blair River that was an Arctic plant paradise. There were many very rare plants in close proximity in the spray zones on shaded cliffs and ledges.
If time allows, Sean will share some iNaturalist information: 1. how to contribute to AC CDC via the app, and 2. the remarkable new computer identification feature.
All welcome! 7:30 pm, Monday April 23, 2018 in the auditorium of the Nova Scotia Museum of Natural History, 1747 Summer Street, Halifax.
Sunday, Nov. 11, 2018: Field Trip: POSTPONED BECAUSE OF TRAIL CONDITIONS
Moss hike along the Pennant River at West Pennant
Field Trip led by Anne Mills.
Anne Mills will lead a moss field trip to a newly donated 300 acre property along the Pennant River to Grand Lake. A trail (foot path) winds its way along the river and finishes at the lake. Footing at the beginning of the trail behind the parking area is a bit tricky because of tree roots but it soon levels out. Anne suggests bringing a walking stick and a snack or light lunch and to wear good boots as well. Parking is limited in the present small space so carpooling is suggested.
Participation limited (10), Registration required: contact Anne Mills at ocotillo8ATgmail.com
Mon Nov 26, 2018:
Yellowstone and Grand Teton National Parks
Keith Vaughan and Marion Sensen will talk about their visit to the Yellowstone and Grand Teton National Parks in Wyoming, USA, in October 2015. The talk will be illustrated with photographs taken at that time. The talk will discuss the natural history and natural wonders of the parks including mountains, rivers, waterfalls, thermal hot-spots, geysers and wildlife. The Yellowstone NP sits over a vast caldera of thermal activity (thermal pools, springs and geysers), and is considered to be an active volcano which last erupted with tremendous force thousands of years ago. The thermal pools and hot springs exhibit a wonderful array of colours that are created by unusual heat-loving microorganisms called "thermophiles" that thrive in the hot water conditions. Major geological features of the park are the Grand Canyon of the Yellowstone with its magnificent waterfalls, the Mammoth Hot Springs, Old Faithful Geyser, Yellowstone Lake, and the Madison River. The talk will end with photos of the magnificent Grand Teton mountain range at the southern part of this amazing natural treasure."