Field Trip to Polly's Cove Trail – Moved to Sunday Oct 2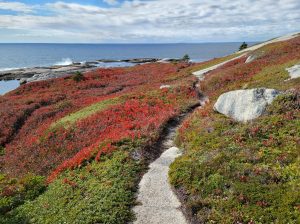 The field trip to the Polly's Cove Trail (between Peggy's Cove and West Dover) has been moved to the following weekend due to the pending Hurricane Fiona.
Meet at Parking area: 10:00 Am Sunday Sept 25. Rain Date Sat.Sept 24.
Take route 333 from Upper Tantallon St.Margaret's Bay Road about 23 km to site, a little past Peggy's cove (< 1km) ,Parking for 5-6 cars on the right seaward side of the road. Area is filled with granite whale backs,barrens,bogs,small ponds etc. The seacoast also has a wide variety of coastal flora. 2-4 hrs. Bring lunch.water, binoculars,camera etc. Dress for the weather. Bogs are dry at present and hiking boots may be ok.
Please contact Charlie Cron to let himlnow that you plan to attend. ccron72@hotmail.com