Through the fall, winter and spring, we meet at 7:30 pm on the 4th Monday of the month in the auditorium of the Nova Scotia Museum of Natural History, 1747 Summer Street, Halifax. Meetings are open to the public. Field trips are held throughout the year, but most frequently during the summer. They are usually held on a Saturday or Sunday. The field trips are also open to the public, except when numbers must be restricted.
COMING UP
Monday March 25, 2019 – Roots of the Nova Scotia Nature Trust: 25 years of Preserving Places for Special Plants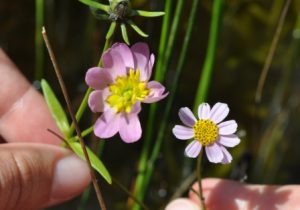 The Nova Scotia Nature Trust is celebrating 25 years of land conservation this year! Join Jessica Bradford, Conservation Project Coordinator, as she takes you through a short history of the Nature Trust rooted in preserving places for special and rare plants like the Atlantic Coastal Plain Flora in Southwest Nova. She will also highlight some other Nature Trust conservation lands noted for their unique wild flora.