Through the fall, winter and spring, we meet at 7:30 pm on the 4th Monday of the month in the auditorium of the Nova Scotia Museum of Natural History, 1747 Summer Street, Halifax. Meetings are open to the public. Field trips are held throughout the year, but most frequently during the summer. They are usually held on a Saturday or Sunday. The field trips are also open to the public, except when numbers must be restricted.
COMING UP
Monthly Wild Flora Meeting Monday Sep 23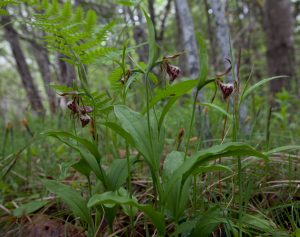 Our speaker, Alain Belliveau, will talk about his explorations for the Ram's-head Lady's Slipper (Cypripedium arietinum), a small but beautiful orchid whose very few populations are ranked as vulnerable in Nova Scotia.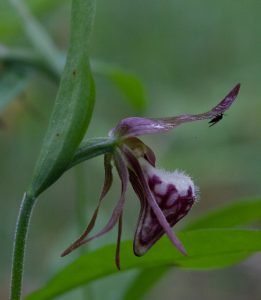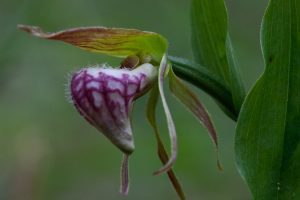 Alain is the Botanist and collections manager of the Irving Biodiversity Collections at the E.C. Smith Herbarium at Acadia University, with a focus on the Acadian Forest Region.
Photos Bob Kennedy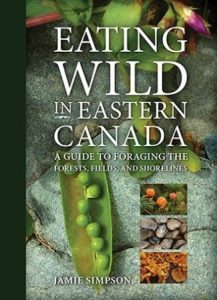 Monday, Oct 28, 2019: Jamie Simpson on Eating Wild in Eastern Canada
Jamie Simpson will be our guest speaker at our regular monthly meeting for October. All Welcome.
"Jamie Simpson is a forester, lawyer, and writer with a passion for exploring our natural world (and sometimes eating it). He is the author of Restoring the Acadian Forest: A Guide to Forest Stewardship for Woodlot Owners in Eastern Canada, and Journeys through Eastern Old-growth Forests. Jamie has received several awards for his conservation work, including the Elizabeth May Award for Environmental Service, the Environmental Law Prize from Dalhousie University, and the Honour in the Woods Award from the Nova Scotia Environmental Network." His most recent book is Eating Wild in Eastern Canada, A Guide to Foraging the Forests, Fields and Shorelines.
We look forward to an interesting evening!
7:30 p.m. at NS Museum of Natural History, 1747 Summer Street, Halifax