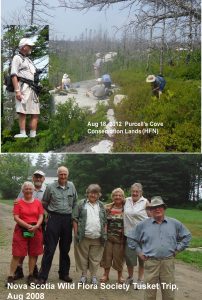 It is with heavy hearts that we heard this past week of the passing of Bob McDonald.
Bob and Wendy, his always present spouse, partner, campaigner, have contributed so much to the naturalist community, Halifax and the province over the years, it really cannot be summarized in a few words.
Bob and Wendy were regular participants in NSWFS events, and Bob an organic chemist whose naturalist interests began  with birds, became a 'resident expert' in lichens and goldenrods.
Our hearts are with Wendy and all of the family. Thank you for sharing truly wonderful and gentle man with so many of us. We live in a better place because of him.
Please view the Obituary on the JA Snow website 
Visitation will be held at J.A. Snow's Funeral Home, 339 Lacewood Drive Thursday, November 25, 2-4 and 6-8 PM, with a Celebration of Life on Friday, November 26 at 2 PM. Proof of vaccination and masking protocol are required. In lieu of flowers, donations can be made in Bob's memory to the Nova Scotia Nature Trust (nsnt.ca/) the QE2 Foundation (https://qe2foundation.ca/) or the Dr. Bob MSVU Scholarship (https://www.msvu.ca/). Online condolences may be made at: www.jasnowfuneralhome.com