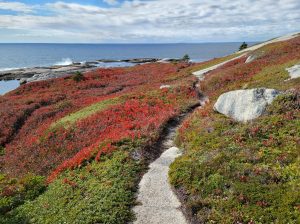 Charles Cron will be leading a field trip to the Polly's Cove Trail (between Peggy's Cove and West Dover)  It will be on Sunday, Oct 1
Take the 101 from Halifax: exit 5 at Upper Tantallon : turn  left at the lights on the Hamonds Plains Road ,to the Junction with Rte 3 St. Margaret's Bay  Road,turn Right on the St,Margaret's Bay Road to the lights: then Left onto  rte.333 .Follow route 333 to Peggy's Cove, go about 1.5 km past Peggy's Cove uphill : there are 2 parking areas ,oe on the left the next on the right at the Trail head for Poly's Cove. Otherwise park on the roadside but do not block traffic.
Meet at the trailhead at 10:00 am. Duration about 2-3 hrs. Wear waterproof hikers or rubber boots. Moderately difficult (Depending on the route taken). Bring water and lunch. (some areas may be flooded).
Please register with Charlie Cron by Thursday  Sept 28 to let him know that you plan to attend. ccron72@hotmail.com or call 902 477 8272 leave message