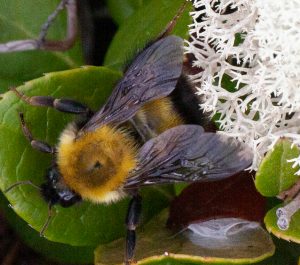 Our next member's meeting will be via Zoom at 7:00pm on Sep 26. Invitations will be emailed to members closer to the date.
Bees pollinate many flowers that are important for people. There are far more bees that share NS with us than most people appreciate. We will explore what bees are in NS and how we can provide habitat and resources for bees to increase pollination.
 Perplexing Bumble Bee – Bombus perplexus      Photo Bob Kennedy
Alana Pindar, is an early career scientist and recently appointed Weston Family Visiting Professor in Ecosystem Health and Food Security at Cape Breton University.  She has been studying changes in wild bee communities in Eastern Canada for over 15 years.  In 2016, She led a provincial report on the Status and Trends for Pollinator Health in Ontario for the Ontario Ministry of Agricultural and Rural Affairs was awarded the Webster Postdoctoral Fellowship in Environmental Sciences for her work.
David McCorquodale, biology professor at Cape Breton University for more than 30 years. A naturalist who has monitored bird populations, recorded long-horned beetles and lady beetles in eastern Canada and is currently teaching plant taxonomy. Service roles have included Chair of Science Atlantic and currently Co-Chair of COSEWIC Arthropods and the NS Insect Recovery Team.