Learn more about the natural flora of the Chignecto Isthmus! 
Monday, June 27th,  1:30pm-4:30pm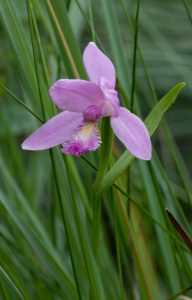 Nature Conservancy Canada, in conjunction with the Atlantic Conservation Data Centre, has generously offered to join with us on a field trip in and around some of the NCC wilderness properties on the Chignecto Isthmus. The trip will start in New Brunswick and we will head into Nova Scotia.
This trip was originally scheduled for June 27, but because of conflicts, it has been moved to July 4.
The Chignecto Isthmus is recognized for its importance to wildlife for connectivity between New Brunswick and Nova Scotia. It has been identified as a linkage point for the typical movements of plant and animal species as well as critical for northward migration of species in response to climate change.
Rose pogonia – Pogonia ophioglossoides, Photo Bob Kennedy
Join us for an afternoon of learning more about some of the rare plant species that grow in the area. A representative from the ACCDC will be leading the 3km hike and participants will explore forest and wetland habitats and the wide variety of flora and fauna within them.
Habitats visited would be mixed forest (locally wet), maybe some open wetland and pond, and disturbed forest edge. The latter has most of the more interesting species, with a lot of orchids, especially Grass-Pink (Calopogon tuberosus) and Rose Pogonia (Pogonia ophioglossoides). There are some local areas of more calcareous disturbed soils that have uncommon to rare species like Rufous Bulrush (Scirpus pendulus), Loesel's Twayblade (Liparis loeselii), Dudley's Rush (Juncus dudleyi), Slender Spikerush (Eleocharis nitida), Variegated Horsetail (Equisetum variegatum), but I'm not sure if we are able to reach them.
Meet just before 1:30 pm at Parson Road, at the corner of NB Highway 16 (45.939880, -64.209108) From there we will carpool to the laneway that takes us to the property, then walk in once the road becomes difficult for smaller cars.
Please contact nswildflora@yahoo.ca to register for the trip.
 What to Bring: Water, snacks, close-toed walking shoes, rain gear (just in case!), layers of clothing, bug spray, sunscreen, hat.   
Trail difficulty: Difficulty of the walk would be moderate – old logging roads that are very flat, sometimes fairly shrubby or mucky-wet in places. Rubber boots would be important if you want to stay dry and the mosquitos can be extreme, so long sleeves and pants plus repellent are essential and a hat would be recommended.